BRIO STUDIO is based in India, is a premier animation company dedicated to producing kids content that is inclusive, entertaining and high quality and also provides the full spectrum of pre-production, animation, and post production Services, with top talents in top writers, storyboard artists, and production crew. BRIO STUDIO was founded in 2015 as a small Animation and VFX production company. Since then, we have continued to pursue the same goal: producing content that is engaging, entertaining and educational for today's children and their parents.
BRIO STUDIO we have three key pillars for success: creativity, innovation and an ethically responsible business. Beyond these three values,our business model is centered around delivering great content. BRIO STUDIO's original brands till today include: TIBU and FRIENDS, COW-BOY, THE MAK N' CHEEZE and JURASSIC GENIUS.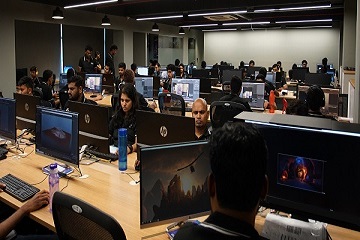 Our Services
Concept Script/Development
everything begins with a story! first idea, script and drawings that represent the story. We can edit a supplied draft to ensure it will animate in an engaging, succinct way.

Story Boarding / Animatic
the keeper of the flow Storyboard / Animatic is a helpful way to pull together everything we've got so far and create a fully timed-out rough film. Its purpose is to demonstrate timing, flow and pace alongside key movements and transitions.
Art Development
All our creative designer's and illustrators would love nothing more than crafting the designs we'll later bring to life. If the client would like us to design their animation, we'll start dreaming up the best possible style direction for their brief.

CGI Development
starts with art data drawings,sculptures to create geometry in the modeling, character modeling, environment and prop modeling, shading, textures, character rigging, set dressing..
3D Animation
During this stage we'll be doing what we do best: bringing the story to life frame by frame and creating those enchanting moments that turn the piece into something truly magical and memorable.
Post Production
the final stage in the process of creating an animation. Render and delivery can take some time depending on the size and nature of the files we're supplying, but worth the wait when the final piece of magic arrives in the hands of the client. And there you have it—a shiny new animation to share with the world!
AR & VR Development
(Android/iOS/Windows phone),
PC, Console,
AR & VR and online platforms.